Worldvision Enterprises Inc. was a television program and home video distributor established in 1973 as the successor of ABC Films after the former company spun-off because it was against the FCC regulations for a television network to distribute its programs under its own name. They primarily licensed programs from others, rather than producing their own content. When Worldvision was in operation for 10 years, the company had offices in very important cities around the world such as: NY, LA, Chicago, Atlanta, London, Paris, Tokyo, Sydney, Toronto, Rio de Janeiro, Munich, Mexico City, and Rome. In 1979, Worldvision was sold to Taft Broadcasting (later renamed as "Great American" in 1987 and "Citicasters" in 1993), and was later sold to Aaron Spelling in 1988 and became part of Spelling, Inc. The transaction was completed on March 11, 1989. On April 6, 1991, Spelling Entertainment Inc. was acquired by the Charter Company, an oil refining, insurance, and communications company. Spelling and Charter merged on October 5, 1992 and Charter was renamed to "Spelling Entertainment Group". On October 5, 1993, Blockbuster Entertainment Corporation acquired a 67% stake in Spelling Entertainment Group. On September 29, 1994, Blockbuster merged with Viacom. In 1997, the production arm of Worldvision Enterprises was incorporated into Republic Pictures, and in 1999, Viacom (now "CBS Corporation") acquired the rest of the Spelling Entertainment Group, and folded the distribution arm of Worldvision into Paramount Domestic Television (now "CBS Television Distribution"). Currently, most of the Worldvision Enterprises library (the exceptions: most of the Hanna-Barbera library is owned by Warner Bros. Entertainment through Turner Broadcasting, Let's Make a Deal is now owned by FremantleMedia, and the TV movies produced by Fries Entertainment co-produced by Worldvision are owned by MGM Holdings Inc.) is owned by CBS Corporation through CBS Television Distribution and Spelling Television Inc.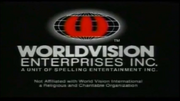 Wubbzy is neutral to this logo.
Scare Factor
Edit
Minimal. The animation and the "WHOOSH" combined with the eerie synth and globe design may scare some. However, it is slightly tamer than its home video counterpart. The high and low tone variants might catch you off-guard if you were expecting the normal variants. None for all variants that are used to it.