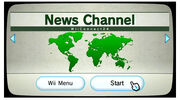 The News Channel allowed users to access news headlines and current news events obtained from the Internet. News articles are available on a globe view, similar to the Forecast Channel, and as a slide show. The content is automatically updated and viewable via WiiConnect24 with clickable news images supported.
The News Channel became available in North America, Europe, and Australia on January 26, 2007. Content is in a variety of languages provided by the Associated Press, which currently has a two-year contract to provide news and photos to Nintendo. Canadian news is submitted by the Canadian Press for publication. Japanese news is provided by Nippon Television and the Mainichi Shimbun. European news is provided by Agence France-Presse.
Starting with the August 6, 2007 update, the News Channel shows a news ticker in the Wii Menu. However, not visiting the channel for a period of time will result in the ticker not appearing, until the channel is viewed. A December 20, 2007 PAL region update increased the number of news feeds to the channel, sourced from a larger number of news resources and agencies, providing more news that is available per country.
As with the Forecast Channel, the News Channel was not available in South Korea.
Like the four other Wii channels, the News Channel was discontinued on June 28, 2013 after being active for seven years. However, it was brought back with RiiConnect24.
Scare Factor
Edit
Low to medium, the chime sounds may cringe you.