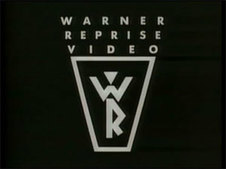 Warner Reprise Video was a company that distributed music DVDs and VHSes.
Against a static BG that flashes many colors, some pink lines, which quickly fade into white, fly onto the screen and collaborate in the center to form a dancing stick figure with a triangular head. As he continues to dance, several magenta and green-colored letters swirl around and form the words:
W A R N E R R E P R I S E V I D E O
At the same time, four magents-colored lines fly in and form a border around the stick figure, which is shaped like an elongated trapezoid. Then, the figure stops dancing and forms a WR shape, the border & text fade to white, and the static BG fades to black.
Scare Rank
Edit
Low to medium. The music and fast pace of the logo, along with the eerie choir midway through, may surprise someone.