We start on a black background, with "WALT DiSNEY" beginning to sketch itself on screen in pinkish-gold, with the text arced a bit. As we zoom out, "MASTERPIECE" and "COLLECTION" zoom out, with "MASTERPIECE" going left and "COLLECTION" going right. They then settle under the "WALT DiSNEY" text, spaced a bit against each other. Now Tinkerbell (from Disney's Peter Pan) comes out from behind the word "MASTERPIECE", hovers in front for a bit as she waves her magic wand, and then a bright flash appears, and when it clears, the finished logo appears: the text is now in a purple arc (slightly shaped like the Sesame Street sign), with "WALT DiSNEY" on top and "MASTERPIECE COLLECTION" on the bottom, with a small gray oval with the silver Disney Castle logo between "MASTERPIECE" and "COLLECTION". Tinkerbell flies off to the left of the screen, leaving a trail of pixie dust to dissolve a little slowly. The logo "shines. Some countries have the "MASTERPIECE COLLECTION" text of the logo written in their native language. In Australia, it is replaced with "CLASSICS COLLECTION." These were found: "COLECCIÓN MAESTRA" (MAESTRA in spaced-out letters) on Spanish tapes and "COLLECTION CHEFS-D'ŒUVRE" (CHEFS-D'ŒUVRE in narrow letters) on French Canadian tapes.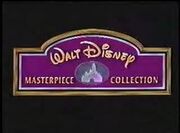 Fright Factor
Edit
Normal Version: None. The remix and fast pacing may surprise some, but this is yet another very nicely animated logo.
Horror Version: Low to Nightmare. The jumpscare, and text are red and castle turns into a haunted house, than a girl screams on this horror logo.