Nicknames: WATCH OUT FOR THAT TRUCK!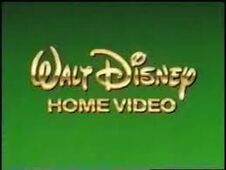 This logo is the Walt Disney Home Video logo that was used from 1991 through 2002.
On a black, blue gradient, or even rarely, a green gradient background, we see the signature of Walt Disney, and the words "HOME VIDEO" below it, in gold. Both elements shine.
Scare Factor
Edit
Medium. The logo's appearance, as well as it's 4-note jingle, is sudden, and can startle you. You may wish to hide somewhere before it appears for this reason. Low for the Olivia variant. The little kid popping into your face may scare quite a few.