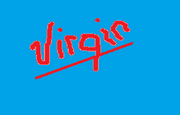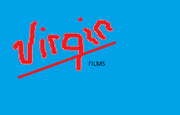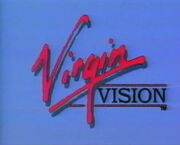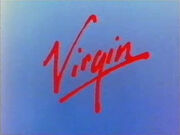 Logo: The first has a black background, then the words "Virgin" (in blood red, and in its corporate script font) zoom out from the top left of the screen with a residue-trailing effect and stop in the centre of the screen, "flashing". The following text varies, depending on which part of the world you are in. The second also has a black background, but then a set of revolving tri-coloured light beams (red, blue, and green) shoot out towards the screen and bounce back and forth thrice in a backwards "Z" formation. Then, it hits the centre of the screen, and the Virgin logo, with a pattern of concentric black circles on it, and above a spotlight, turns upwards. The words "VIDEO" or "VISION" from before are shown in the bottom right, in between two horizontal lines. The words then turn red, and the background turns white, then turns blue.

FX/SFX: The first has the trailing effects. The second has the light beams, the logo turning upwards, and the colouring.
Music: The first logo has a very deep, distorted electric guitar tune with heavy bass composed by Mick Karn. The second logo has a synth horn fanfare, accompanied by chimes as the beams bounce around and a descending synth sound when the logo rises up.
Availibility: The first logo may be seen on some old concert videos and cult films from the period, and the second logo is seen on VHS releases of films such as Retribution, Hello Mary Lou: Prom Night 2, Edge of Sanity, Checking Out, How to Get Ahead in Advertising, Scenes from the Class Struggle in Beverly Hills, The Banker, Fear (1988), and Destroyer, among others. Also seen on British tapes of Paris by Night, Robocop, The Terminator, and Teenage Mutant Ninja Turtles: The Movie, among others.
Scare Factor: The first logo is medium to nightmare. The darkness, blood red colour scheme, and distorted music, and even some of the effects will get to people. The second logo is low; it's much tamer than before, but the sudden appearance of the beams might get to some.