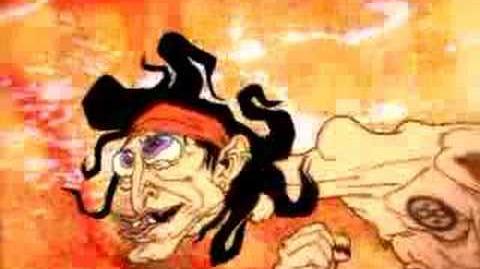 We see a animated guy sitting on a chair and getting a tattoo. He has three contacts with the machine, and the pain keeps getting worse, making the guy suffer more and show disturbing views. Then we see the tattoo of Vicarious Visions logo is done on the back. The tattoo artist forgets a part of the tattoo and adds on a "inc." design.
Scare Factor
Edit
Medium to high. The animation style can be funny for someone, but rather it is a bit weird and quite disturbing. But for those who like tattoos, it's probably lower
Availability
Edit
It can be seen on some Guitar Hero ports for Wii by Vicarious Visions (except Warriors of Rock).
Rock music in the background while loud buzzing is heard. When "inc." is burned, the painful screaming is heard.