United Plankton Pictures is a company that was seen at the end of every SpongeBob episode. One episode-"Texas/Walking Small" has cows mooing instead of seagulls.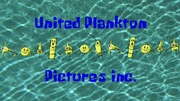 Scare Factor: Low to Medium, the plankton may be a bit creepy, but it's mainly harmless. The cow variant may be jarring, however. 
Ad blocker interference detected!
Wikia is a free-to-use site that makes money from advertising. We have a modified experience for viewers using ad blockers

Wikia is not accessible if you've made further modifications. Remove the custom ad blocker rule(s) and the page will load as expected.