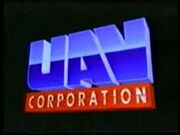 This logo is also known as The Blue Words Of Horror and can cause nightmares.
The logo starts off with the logo floating together in this voidish space and a loud static sound effect plays. Then at the end the logo breaks apart floating off the screen. This logo is high to nightmare because of the loud static sound, the dark and bleak void.
1998 was a horrible year because of the company, they make knock off of Pixar's "A Bug's Life".
Ad blocker interference detected!
Wikia is a free-to-use site that makes money from advertising. We have a modified experience for viewers using ad blockers

Wikia is not accessible if you've made further modifications. Remove the custom ad blocker rule(s) and the page will load as expected.