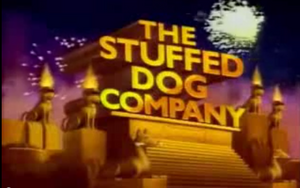 The Stuffed Dog Company Is A TV Company Appeared On Various Closings Of The Fresh Prince Of Bel-Air.
In The Logo We See The Words"THE STUFFED DOG COMPANY"& 2 Golden Dogs With A Dark Blue Sky.
Scare Factor
Edit
None to minimal; it's a funny parody of the 20th Century Fox logo.
(
Ad blocker interference detected!
Wikia is a free-to-use site that makes money from advertising. We have a modified experience for viewers using ad blockers

Wikia is not accessible if you've made further modifications. Remove the custom ad blocker rule(s) and the page will load as expected.