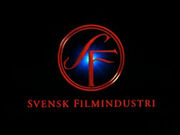 Svensk Filmindustri is a Swedish movie company.
Note:
Svensk Filmindustri means Swedish Film Industry in Swedish.
Scare Factor:
1930-1946: Very, very, Nightmare, because of the darkness.
1946-1964: Medium due to the white logo on a black background.
1964-1986: Extreme High, the loud music, the color changing background, and the animation might scare some.
1986-1999: Low, the music and black background may scare some.
1999: Lower. 2016: None