Split the Difference Productions is a logo taken from the animated series Baby Blues. It features the company name on a red background with "SPLIT THE DIFFERENCE" on top of a triangle that says "PRODUCTIONS". A chainsaw appears and slices the screen in half vertically down the middle, leaving a weird-looking rip.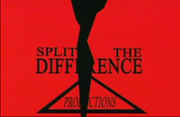 Scare Factor
Edit
Scare Factor: Low to Medium on CLG wiki, but mine is medium to high. I found this one pretty frightening, and I bet some newcomers to the
Baby Blues
show will too. Plus, if the logo isn't a total eyesore I don't know what is!