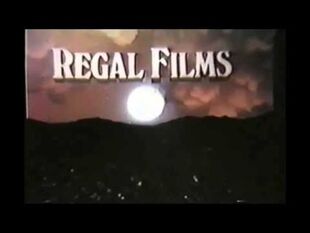 Regal Films is a Filipino company which has formed in 1962. As you can see, the hills are there. & the top, there was the red clouds. The red clouds move & thunderstorms strikes. & the font, REGAL FILMS appear from the clouds. & the moon fades in. Clouds still visible & getting out of the way. few seconds later, the red R with the crown on top of it appears in the middle of the moon & the entire background (except the R) fades out then the R zooms towards us.but was choopy.Also this scary logo was in 1985 to 1993.
Cheesy factor: so much cheese!!!! The background looks like stock footage from a nature video. It's unlikely that clouds could visibly move behind the moon (what almost looks like a shadow of something, which adds to the scare factor). Finally, as with the V of Doom, the "R" zooming in is very choppily done. Edit
Scare Factor
Edit
Medium to ultra nightmare : Because of the ugly font, thunderstorms, the zooming R, the creepy music & of course, the enitre atmospere! It's ultra similar to the Viacom V of Doom And the WGBH zoom!but the choopiness of its logo erase it and those who are used to the logo it could range from None to minimal.
Starting in 1987, a horror-themed synth piece with a few odd sounds thrown in. Also, you can hear the thunderbolts/"castle thunder" at the beginning of the logo.in 1985-1987 it had a dramatic fanfare.
watch if you dare!
Edit