Rated SPG (or Strong Parental Guidance) is a television rating implemented by the MTRCB (Movie Television Radio and Classification Board), a media organization that classifies TV shows and movies in the Philippines
Description
Edit
It first shows the MTRCB logo with it's jingle then a female annotation in Filipino saying Ang programang ito ay Rated SPG then it shows the letters SPG in a red box as the female voice continues to explain in Filipino: "Striktong" patnubay at gabay ng magulang ang kailangan. Maaring may maseselang tema, lengguwahe, karahasan, sekswal, horror, o droga, na hindi angkop sa mga bata. It then remains still for a few seconds before the program starts.
An English version also exists, with this dialogue:
"This program is rated SPG. It contains scenes with themes, language, violence, sex, horror, or drugs, which may not be suitable for children. Strong parental guidance is advised."
The Filipino version also shows the letters T L K S H D (for Tema, Lengguwahe, Karahasan, Sekswal, Horror, and Droga). The English version, on the other hand, shows T L V S H D (for Themes, Language, Violence, Sex, Horror and Drugs).
On February 9, 2012, then-MTRCB Chairman (now Senator) Grace Poe-Llamanzares implemented the SPG which stands for Strong Parental Grace in English and Striktong Patnubay at Gabay in Filipino for TV shows that are not appropriate for children's viewing due to strong themes, language, violence, sexual content, horror, and display of drugs.
SPG

STRONG PARENTAL GUIDANCE
Scare Rank
Edit
Nightmare. The long pause of the last musical note, and enlisting of content descriptors cinema one shake rattle and roll aquarium (Tema/Themes, Lengguwahe/Language, Karahasan/Violence, Sekswal/Sex, Horror, Droga/Drugs), might scare.
None if Filipinos are mature enough.
The SPG rating is shown twice in one program (at the beginning, and during midway of the program)
ABS-CBN, a Philippine television network shows the content descriptors (T L K S H D) very clearly during the program.
This rating is shown in up to 3 consecutive shows, particularly GMA Afternoon Prime, TV5 Sari Sari sa Weekend and ABS-CBN Primetime Bida; So you will see SPG up to 6 times, that is if you love watching GMA, TV5 and ABS-CBN. Indeed, as of 2017, more shows are added to ABS-CBN, GMA and TV5 and most of them are Rated SPG, particularly ABS-CBN with Wildflower and La Luna Sangre on Primetime Bida, and Hanggang Saan on Kapamilya Gold. Considering Rated PG is endangered.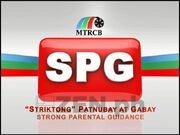 Ad blocker interference detected!
Wikia is a free-to-use site that makes money from advertising. We have a modified experience for viewers using ad blockers

Wikia is not accessible if you've made further modifications. Remove the custom ad blocker rule(s) and the page will load as expected.