Pat Morita (1932-2005) is a picture in memory of the late Pat Morita which appeared at the end of the SpongeBob Squarepants episode Karate Island. Although not considered a logo, the sudden appearance has startled most SpongeBob fans.
About the Actor
Edit
Noriyuki "Pat" Morita (June 28, 1932 – November 24, 2005) was a Japanese-American actor known for his role as Mr. Miyagi in the original Karate Kid series. He also provided the voice of Master Udon in the famous cartoon SpongeBob Squarepants. He died on November 24, 2005 due to kidney failure. A picture of him is shown at the end of the SpongeBob SquarePants episode Karate Island.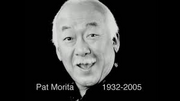 Description
Edit
It shows a picture of Pat Morita in black and white background smiling at the viewer with the caption that says "Pat Morita 1932-2005"
According to SpongeBob Wiki, after the first few airings of the Karate Island episode, Nickelodeon removed the dedication after the Best Day Ever Marathon
However the online version, the DVD version , YTV (which rarely shows the episode) and Nickelodeon Asia (most notably Philippines) still shows his dedication
Scare rankingEdit
None for the people who gave respect to Mr. Morita. However, the black background, silence and Mr. Morita staring at the viewer may startle some if alone.
R.I.P. Pat Morita.
Watch if you dare
Edit