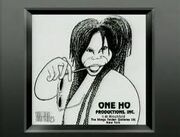 One Ho Productions is a television company owned by Whoopi Goldberg in 1992. The logo shows a caricature picture of Whoopi Goldberg smiling at the viewer while biting her sunglasses. It usually appears at the end of the first four seasons of the 1998 version of Hollywood Squares. And also appears on Strong Medicine from 2000 to 2006.
Scare Rank
Edit
High to nightmare : The sudden appearance of the logo can startle viewers (especially Hollywood Square fans), and can be viewed differently by people. Someone could view this as an albino Goldberg, and someone else can view this as a soulless demon or something scary. Also the music popping up in your face with the logo all together make this the 3rd scariest logo on my list.
Ad blocker interference detected!
Wikia is a free-to-use site that makes money from advertising. We have a modified experience for viewers using ad blockers

Wikia is not accessible if you've made further modifications. Remove the custom ad blocker rule(s) and the page will load as expected.