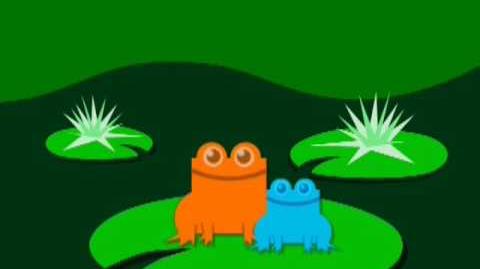 Logo: On a swamp background, we see two frogs sitting on a lilypad. The orange frog croaks three times. And then, the blue frog croaks loudly and scared the orange frog. After that, the words Nick Jr fade in both Happy frogs. And After that, the logo zooms to the corner.
Music/Sounds: An orange frog 3 croaks followed by birds chirping, a blue frog croaking loudly, and a synthized rise.
Scare Factor: Low, the blue frog's croak can get to some.
Strawberry Shortcake Berry Merry Christmas DVD
Kipper Cuddly Critters DVD
Sesame Street What The Name Of That Song DVD And Vhs
Dora Saves The Mermaids DVD 2007
Ad blocker interference detected!
Wikia is a free-to-use site that makes money from advertising. We have a modified experience for viewers using ad blockers

Wikia is not accessible if you've made further modifications. Remove the custom ad blocker rule(s) and the page will load as expected.