On A Yellow Background We See The Dad And Kid With The Words "NICK" & "JR." On Their Bodies. They Jump Around While The Word "Productions" In Childish-Font Forms. The Kid Jumps On The Dad's Shoulder And The Logo Is Frozen. There's Also A Variant For A Dora The Explorer Creepypasta Where The "NICK" was mercilessly beating up the "JR." With Blood coming out of him. Scare Factor: Depends On The Variant.
Normal: None.It's A Cute Logo And A Favorite Of Many. Not This One, The Clay One!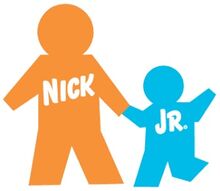 1999 Variant: NIGHTMARE! Due To The Dreadful Version Of The Music From The Original Logo. Creepypasta Variant: DEATH NIGHMARE!!!!