On A Yellow Background We See The Dad And Kid With The Words "NICK" & "JR." On Their Bodies. They Jump Around While The Word "Productions" In Childish-Font Forms. The Kid Jumps On The Dad's Shoulder And The Logo Is Frozen.
Scare Factor: Depends On The Variant.
Normal: None.It's A Cute Logo And A Favorite Of Many. Not This One, The Clay One!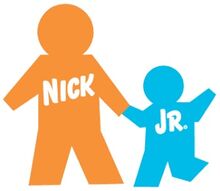 1999 Variant: NIGHTMARE! Due To The Dreadful Version Of The Music From The Original Logo.
Ad blocker interference detected!
Wikia is a free-to-use site that makes money from advertising. We have a modified experience for viewers using ad blockers

Wikia is not accessible if you've made further modifications. Remove the custom ad blocker rule(s) and the page will load as expected.