Neversoft Entertainment (or simply Neversoft) was an American video game developer, founded in July 1994 by Joel Jewett, Mick West and Chris Ward. Neversoft is best recognized for their line of Tony Hawk's Pro Skater and Guitar Hero video game franchises.
This logo can really vary depending on the game we are playing
For example: In Spiderman (For Playstation) The eye tries to escape the "NEVERSFT" falling letters until they stop falling and a pointy harpoon-like item falls trough him, fulfilling the final logo with the eye as the "O" Letter,
But in the Tony Hawk's series, The eye can be seen from being a host from a dead, headless corpse with a skate to a suburban-like character laying on some Graffitis.
Scare Factor
Edit
Well, It's hard to tell if it is scary, but the Tony Hawk's Underground one y REALLY scary for ones.
But the logo sometimes can be funny (like the Tony Hawk's Pro Skater 3 one).
Edit
Variates from None to Nightmare.
Compilation
Edit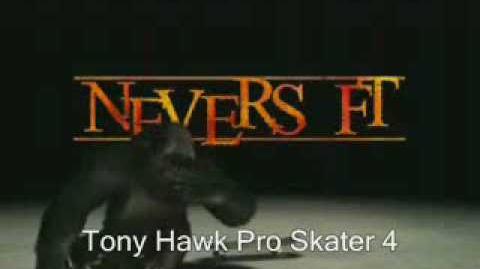 Here's a compilation of the logos troughout the Tony Hawk's series.
Ad blocker interference detected!
Wikia is a free-to-use site that makes money from advertising. We have a modified experience for viewers using ad blockers

Wikia is not accessible if you've made further modifications. Remove the custom ad blocker rule(s) and the page will load as expected.