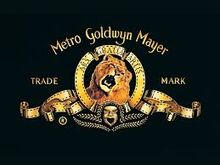 1916-1924
Edit
1917-1924
Edit
1924-1953
Edit
1924-1984
Edit
1924-1925
Edit
1924-1928
Edit
1928-1953
Edit
1928-1932
Edit
1932-1935
Edit
1934-1953
Edit
1953-1956
Edit
1956-1958
Edit
1957-1986
Edit
1974 (50th Anniversary)
Edit
1982-1986
Edit
1984 (60th Anniversary)
Edit
1986-2012
Edit
2012-present
Edit
Scare Rank
Edit
None for Slats.
None to medium for Jackie.
Low to high for Telly.
Medium bordering on high for Coffee.
High for Tanner.
Low bordering on medium for George
Low to medium for original Leo and 2012 version.
Low for 1984 and 1986 versions.
Medium for the 2008 version.
In 1955 this company introduced MGM Television.
It started out as Metro Pictures.
Loads of kids had nightmares off this. Click here to see a random kid getting scared by it: https://www.youtube.com/watch?v=Db2WPbWfK0k
It appeared on multiple James Bond movies.
This logo appears on Good Boy and Igor.
In 1916, the sounds were not made.
The more they progressed, the scarier the lion was.
MGM is 101 years old. In 2016, it turned 100 years old. In 2066, MGM will be 150 years old. Paramount is 105/106 as of today. it turned 100 in 2011/2012. Universal is 105 years old as of today. it turned 100 in 2012.
Ad blocker interference detected!
Wikia is a free-to-use site that makes money from advertising. We have a modified experience for viewers using ad blockers

Wikia is not accessible if you've made further modifications. Remove the custom ad blocker rule(s) and the page will load as expected.