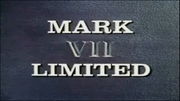 Mark VII Limited is a logo showing a man with a hammer (which is the company's creator, Jack Webb) banging twice (short variant only once) and words "MARK VII LIMITED". Most shows would have this logo followed by the 1969-1973 Universal Studios logo or the 1971-1973 Universal Studios Still Zooming Globe Variant.for 1973-1975 shows, this logo would be followed by the 1973-1975 Universal Television logo. The company was defunct due to Jack Webb's death in 1982.
Scare Factor
Edit
High.  The hammer zooming into you and the music might scare a few. But It's a little scary for some viewers!
Watch if you dare!!!!!!!
Edit