ITC



Colors

Black, White, Blue, Dark Blue, Red, etc.

Scare Factor

Medium to Nightmare

Golden Logo: Low to High

Avalability

Uncommon to Rare

Years Used

1959- 1997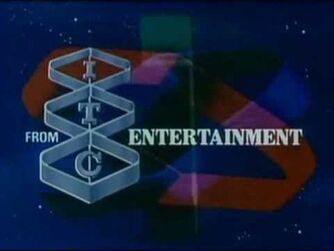 The Incorporated Television Company (ITC) was a British television distribution company founded by television mogul Lew Grade in 1954 as the distribution unit of ATV (AssociatedTeleVision), one of the ITV franchises; it later branched out into TV series and feature film production. In 1995, PolyGram Filmed Entertainment acquired ITC Entertainment Group. PolyGram was later acquired by Seagram and Sons on December 10, 1998. In January 1999, Carlton Communications acquired the ITC library. Most of the ITC library, with certain exceptions (The Dark Crystal is held by Universal with Sony Pictures Entertainment handling video rights, and The Evil That Men Do is owned by co-distributor Tri-Star Pictures through Sony Pictures Entertainment), is now owned by ITV Studios Global Entertainment, a subsidiary of ITV plc.
On a dark blue space background, three diamonds appear, red, green, and blue respectively, "interlocked" within each other and spinning around like a top. From the center of the screen, a white ITC logo, designed much like last time but now turned slightly upward, zooms out and quickly moves to the left side, as the word "ENTERTAINMENT" appears alongside. At the end of the logo, the ITC logo fades out to make room for the word "Presents", the ending version is similar, but has the word "FROM" next to the logo with no "Presents" following it. When introduced in 1973, the ITC logo zooms into the center of the screen after which either the word "PRESENTS", "PRODUCTION", or "DISTRIBUTION" pop up under it before the sequence fades out. It was replaced with the more familiar version by 1977.
ITV (UK)
Anglia Television Border Television Central Channel Television Grampian Television Granada HTV LWT Scottish Television TVS Television Television South West Thames Television Tyne Tees Ulster Television Yorkshire Television
CLG Wiki Celebrating a Decade of The Motion Graphics Museum
Scare Factor
Edit
Medium. The scary music (which is the same composed by Jack Parnell from the previous as before, but a bit louder), creepy design, and the seizure-laden (though may not look as seizure-laden on some point of view) background make this an unsuspecting fear factor, and the scare factor might increase to High to Nightmare if you see it twice at both the start and very end. None for the in-credit version. Nonetheless, This logo is a favorite of those who grew up with classic ITC shows like Space: 1999, UFO, The Prisoner, The Muppet Show, Thunderbirds and other cult action/science fiction/fantasy shows or films such as The Dark Crystal, The Last Unicorn, and Saturn 3. Contrary to scariness, American kids of the era (70s and 80s, mostly due to the association with Space 1999 and The Muppet Show) often frequently looked forward to seeing the opening ITC logo as it was often regarded as a precursor of a very cool show to follow.
Nightmare Logos
20th Century Fox 3rdSense (Australia) 3-G Home Video 786 DS Films (India) Cinegroupe (Canada) Amrit Kalamandir Angry Dragon Entertainment Antenne 2 (France) API Television Production (Australia) Apple Films Arcade Pictures Arman Julian Productions Ascot Elite Entertainment Group (Germany) Associated Television (UK) Asymmetrical Productions Authority Films (Hong Kong) Balakrishna Movies Bang! Bang! Films (Hong Kong) BBC Multimedia (UK) BBC Television (UK) BBC Video (UK) Beyond Factory Big Ape Productions Bing Crosby Productions Blancic Video (Venezuela) Bloody Earth Films Boje Buck Filmproduktion (Germany) Bravo (UK) Bryanston Pictures Buddha Pictures (India) Caballero Control Corporation Home Video Carlton Carrey Video Cartoon Network Sign-Off Screen Castle Home Video (UK) Caution Video Japan CBS Productions CC & J Entertainment (Indonesia) Celebrity Home Entertainment Century Motion Picture & Dist. Co., Ltd (Hong Kong) Cheri Sundae Productions Chiller Films Cinegroupe Cocinor Colcultura Coliseum Film (Thailand) Colombiana De Television Comedy Central Productions Horror Central Productions Constantin Film Creature Features Productions Crown Movie Classics CTFM-DL Dan Curtis Productions Darclight Films (Australia) Dark Castle Entertainment Darkwoods Productions Deep Water Derann Video (UK) Dharma Productions Dhandayuthapani Films (India) DiC Entertainment Difusora Internacional De Video (Spain) Do Re Creativa TV Dwarakish Chitra Ear Booker Productions El Niño Films (Philippines) Emperor Edutainment (Indonesia) Emperor Multimedia Group (Hong Kong) Epic Music Video Erry Vision Films Fabrica (Italy) Fangoria Films Fat Dog Productions Feng Huang Motion Picture Co. (Hong Kong) Films Incorporated Fox Reality Original Fu Hsiang Film Company Limited Genesis Home Video Ghost House Pictures Go!Animate Golden Book Video Golden Dragon Cambodian Video Gorgon Video Gracie Films Grand National Hendring Limited Hi- Tech Video (Greece) Hikon Film Video Distribution Horror Factory Impact Pictures Industrial Records Video Infogrames Interglobal Video International Rainbow Pictures Ismail Production (Pakistan) ITC Entertainment Group (UK) Jim Owens Entertainment, Inc. Jubilee Productions (India) Kanaal 2 (Belgium) KCET Key Video Klasky-Csupo KQED KWSU Laser Video Laurel Entertainment Lean-M (Russia) Legal Video (Argentina) Lisberger Studios LK-TEL Video (Argentina) Lorimar Television Lumiton Lynch/Frost Productions macOS Mad Dog Productions Majesco Entertainment Manish Films Manoli Films Master Arts Video Media Blasters Media West Home Video Meridian (UK) Mehboob Productions Ltd. Metro-Goldwyn-Mayer Pictures Metromedia Producers Corporation MGM Television Midnight Video Mimi Video (Japan) MTE MTM Enterprises MTV IDs Murghan Enterprise (India) Mushroom Pictures (Australia) Multivision Nasir Hussain Films National Arts NBC Nextreme Film (Hungary) Nickelodeon ID's Nightime (UK) Nintendo (Japan) OETA Ontario Educational Communications Authority Oxymoron Entertainment Oz Film Company Palace Video Paramount Television (CBS) PFFR Productions PlayStation Plotagon PolyGram Video Public Broadcasting Service Radio-Quebec Rainbow Releasing Productions Ramsay Productions (India) Rank Home Video Red Hour Film Rede Globo Rede Clone Regal Entertainment, Inc. (Philippines) Renaissance Pictures Replay Video Revue Studios Rex Films Home Video (Greece) Roadshow Entertainment (Australia) Saturn Productions Screen Gems Serama Film Corporation (Indonesia) Shakeel Pictures (India) Sham Ralhan Productions (India) Shivalik Films (India) Shun Yee Film Company (Hong Kong) Sideshow Cinema Simitar Entertainment Sinister Cinema Slaughterhouse Entertainment Snee-Oosh Sony Computer Entertainment Something Weird Video Spartan Productions Spitfire Records Starbreeze Studios (Sweden) Starry Night Productions Strand Releasing Stretch Films Suhail Butt (Pakistan) SuperVideo Superfilms Video Home (Argentina) Suresh Productions (India) Swan Productions Synergistic Software Team Happy Rainbow Panda Bears Tele Monte Carlo The Gamma Chronicles THX Tiger Productions (India) Tigon Studios Titwala Filmwalas Time Life Television Time Life Video Toei Home Video (Japan) Toppic Video Terror Vision Trishul (India) Troma Trouble (UK) TSR Games UAV Corporation United Movie Makers (India) Universal Television Vadi-mon Valve Corporation Viacom VID Video Collection International (UK) Video Selection (Argentina) Videomega Entertainment (Argentina) Videovan Entertainment Vidyashree Pictures (India) Virgin Vision Vision Scape Interactive VIVA Films (Philippines) Volition Walt Disney Home Entertainment WGBH Wild Horse Productions (Hong Kong) WNET WOSU-TV Zombastic Productions.Inc
1. India: 27 2. United Kingdom: 3. Hong Kong (China): 8
Ad blocker interference detected!
Wikia is a free-to-use site that makes money from advertising. We have a modified experience for viewers using ad blockers

Wikia is not accessible if you've made further modifications. Remove the custom ad blocker rule(s) and the page will load as expected.