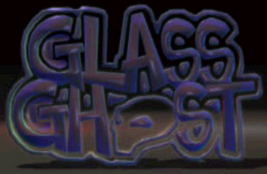 Glass Ghost is a logo that appeared in PSX games such as Eagle One: Harrier Attack and Tank Racers. The ghost showed up in the screen waving with the annoying voices then he ride into the blue tank. 
The Eagle One: Harrier Attack variant features a ghost wearing a red tanktop and works as a runway crew member then he got hit by a Harrier jet.
The Tank Racers variant features a ghost shows up in the screen that speaks sometimes then he hop in into a blue tank followed by a title logo.
Scare Factor
Edit
The annoying ghost and his voice will possibly be scary.
None for the Eagle One: Harrier Attack variant.
The ghost from this logo bears a resemblance to the Ghostly trio from Casper the Friendly Ghost.
The blue tank that he hop in is a MetaCat Radius SRi, one of the four playable tanks in the game. However, it only appears in Tank Racers.