Face of Justice Pao 
is a logo that shows up during the opening and commercial breaks from the 1993 TV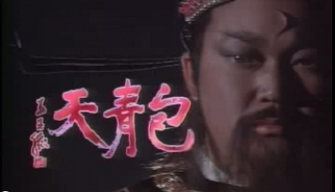 series Justice Bao. It shows the scary face of Bao Zheng (Jin Chao-chun) scrolled from the right to the left in the screen then writes a Chinese text.
Scare Factor
Edit
Medium: The scary looking face of Bao Zheng appears from the right of the screen which is more scarier than Orson Welles' from Rainbow Releasing and some loud noises will scare you. Maybe this Chinese drama show should not recommend to any younger viewers especially children ages 10 yrs old and below.
In the Tagalog/Filipino version of this show, the original logo was replaced by a different logo shows "Regent (See) Entertainment Presents" then an image shows from left to right Judge Bao, Zhan Zao and Gongsun Ce.