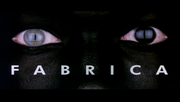 Fabrica is a communications research centre, film studio and school based in Italy. It is part of the Benetton Group, owner of the United Colors of Benetton clothing line.
Common or rare?
Edit
Seen on the 2001 Bosnian film No Man's Land.
Scare Factor
Edit
Nightmare. You will most likely find this nightmare-inducing, due to the disturbing face, the dark nature, the jet-black face color, the unfriendly text, and most of all, the eyes opening,
Watch, if you dare...
Edit