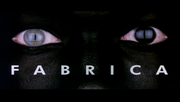 Fabrica is a communications research centre, film studio and school based in Italy. It is part of the Benetton Group, owner of the United Colors of Benetton clothing line.
==scare factor == Seen on the 2001 Bosnian film No Man's Land. The her eyes open and close like this o_o lol =)
Watch, if you dare...
Edit