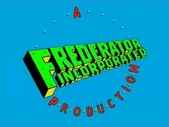 It's a shouting teen girl. That Says "FREDERATOR!!!!"
Scare Factor
Edit
Medium to high for the steel variant. the shouting may not sit well with some
High to nightmare for the drill variant.  It has a scary man in it. or a super hero. but it doesn't go well with the shouting.
Low to nightmare for the LEGO variant. LEGO fans may like it. but still does not go well with the shouting.
Appearances
Edit
The FairlyOdd Parents, Chalkzone, My life as a teenage robot, Adventure Time, Fanboy and Chum Chum, Plum Landing (early seasons)
Ad blocker interference detected!
Wikia is a free-to-use site that makes money from advertising. We have a modified experience for viewers using ad blockers

Wikia is not accessible if you've made further modifications. Remove the custom ad blocker rule(s) and the page will load as expected.