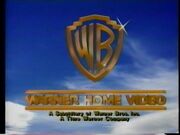 The
Evil WB Shield
is the Warner Home Video logo that was used from 1985 through December 31st, 1996.
On a moving cloudy sky background, two gold bars zoom out to the center of the screen, with one having a series of lights on it, with the other not having those. After they are done zooming out, they turn to reveal themselves as the gold words "WARNER HOME VIDEO" sandwiched between two gold bars. As the words get into a comforable position, a WB shield zooms out and flips downward, positioning itself on top of the words. The completed logo then shines, along with a byline appearing at the bottom of the screen in some cases.
Scare Factor
Edit
Nightmare. The bombastic fanfare and the zooming out may cause more than a few viewers to jump out of their seats. None to low for those who are used to it.