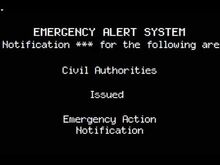 SFX/FX: Buzzing, a g mayor like beeping, the voice reporting what happened and what to do, and 3 short buzzes.
Variants
Edit
.Sometimes you can get a grey screen
.In some Amber Alerts you hear a Hellish THX crossed with a tornado
siren, the problem is mostly the phone
.If you have dish network and a Monthly test broadcasts, It'll say in the screen "Dish Network has initialed a
monthly test of the National Emergency Alert System".
.Not all Televisions show a black screen with headings, some are just a red line telling what happened
and a white bar with the information
Oklahoma Emergency Alert System from 1999
Edit
The Oklahoma Emergency Alert System from 1999 was creepy. First it shows the news and shows a trapezoid that looks like V of Doom tilted. then a sound that sounds like it's saying WAKA WAKA WAKA WAKA
sounds. of course the announcer announces whats happening. then it stays in a black screen and starts making phone noises such as off dial or the cable from the phone is ripped, and the dial tone
Logo Behavior Factor
Edit
Monthy test: Good to awful due to the tones
Amber Alert:ROUGH AND POOR DUE TO THE SOUND THAT ACCOURS MOSTLY
OK to Good if you are very used to this.
Watch it if you dare
Edit
link to a monthly test https://www.youtube.com/watch?v=W9jqHkS4veA
link to a Amber alert https://www.youtube.com/watch?v=r4RloxoHan4
link to the OEASF1999 https://www.youtube.com/watch?v=n1TltnO0p8o