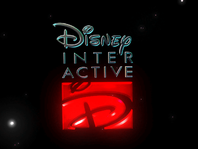 Logo: On a black background, a comet flies down to the middle of the screen. Suddenly, the comet explodes loudly and circles showing clips from Disney and Disney/Pixar-owned movies (in order: Mickey Mouse from Fantasia, Winnie the Pooh & Tigger, Bambi and Thumper from Bambi, Basil of Baker Street from The Great Mouse Detective, Flik's back flip ant jump from A Bug's Life, Marlin from Finding Nemo, Syndrome's death scene from The Incredibles, Miss Bianca from The Rescuers, Jessie from Toy Story 2 and Violet attacking the guards from The Incredibles) fly toward us. When the last circle flies at us, and the Disney Interactive Logo glows once in it. After that, the logo disappears with a via a TV turn off effect.
Variant: On other Disney PS2 games, On a black background,
FX/SFX: Clips of Disney and Disney/Pixar-owned films flying, the Disney Interactive logo glowing, the logo disappearing.
Music/Sounds: An instrumental version of When You Wish Upon a Star from Walt Disney's Pinocchio with a whoosh.
Availability: This logo appears on these PS2 video games like The Rescuers, The Rescuers Down Under, Finding Nemo, The Incredibles, The Incredibles: Rise of the Underminer, Ratatouille, Lilo & Stitch, A Bug's Life, Disney Scene It?, Disney Scene It? Second Edition, and Scene It? Disney Magical Moments.
Scare Factor: High to Nightmare