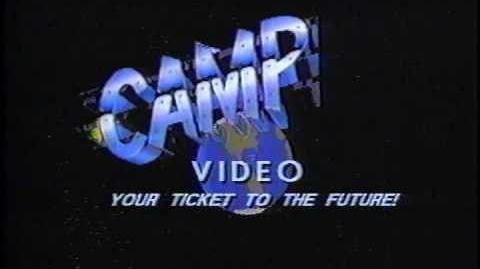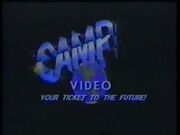 Camp Video is a mid 1980's company that made bad movies.
Logo: In space, we see Earth with a star shooting around Earth. Suddenly, the star then zooms against the screen to reveal CAMP in a chrome sans-serif font. Then, VIDEO and YOUR TICKET TO THE FUTURE! appear under CAMP.
FX/SFX: The star and CAMP zooming in.
Music/Sounds: An airplane whirring sound, then a sharp whoosh when CAMP zooms in.
Availibility: Somewhat rare.
Logo Behavior Factor: Outstanding, because of the noise's and the font.
Ad blocker interference detected!
Wikia is a free-to-use site that makes money from advertising. We have a modified experience for viewers using ad blockers

Wikia is not accessible if you've made further modifications. Remove the custom ad blocker rule(s) and the page will load as expected.