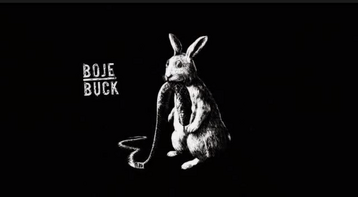 Boje Buck Filmproduktion was a German production company founded by Claus Boje and Deltev Buck in 1992.
It features a rabbit with a snake coming out of it's mouth, with the words "Boje Buck" to the left of it. The background is black and white.
Scare Factor
Edit
Nightmare, thanks to the removal of the colors and the darkness makes it even worse. The disturbing background was removed, but this doesn't help, actually. Do not watch that at night especially midnight. We are begging you. Low to Nightmare for the normal version since the rabbit 🐇 is bound to scare a few. Low to High For The long grass variant.
Ad blocker interference detected!
Wikia is a free-to-use site that makes money from advertising. We have a modified experience for viewers using ad blockers

Wikia is not accessible if you've made further modifications. Remove the custom ad blocker rule(s) and the page will load as expected.