We see a bear paw, and then it turns blue when it makes a pawprint on the screen and the text of the logo appears in Gabriola.
Sounds: A paint blob sound when the pawprint appears.
This is not real (except for the MS Paint drawing, which was done by RowanCunningham).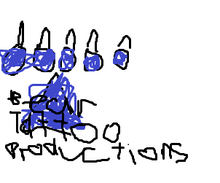 Scare Factor
Edit
High to Nightmare, because of the ugly logo and font, the blob, and the fact it looks like it was drawn by a bunch of 2 year olds with USBs!