We see a bear paw, and then it turns blue when it makes a pawprint on the screen and the text of the logo appears in Gabriola.
Sounds: A paint blob sound when the pawprint appears.
This is not real (except for the MS Paint drawing, which was done by RowanCunningham).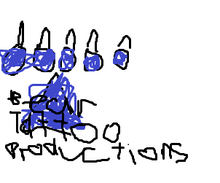 Scare Factor
Edit
Medium, the pawprint and the paint blob sound might catch you off guard.
Ad blocker interference detected!
Wikia is a free-to-use site that makes money from advertising. We have a modified experience for viewers using ad blockers

Wikia is not accessible if you've made further modifications. Remove the custom ad blocker rule(s) and the page will load as expected.