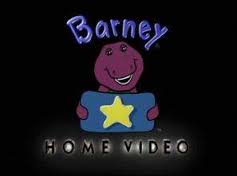 Barney Home Video
is a logo that is seen on many old Barney tapes.
Scare Factor: None to medium. It depends on what you think of Barney's grin. It can just annoy others like the 1st logo, though. But the stars may cause unconfortable feelings to some people.
Nicknames: "Barney the Dinosaur", "Star of Doom"