This was during the early years of BMG, which meant to stand for "Bertelsmann Music Group" (BMG), and it was owned by Bertelsmann AG (hence the name). And during this, in 2004, Bertelsmann Music Group merged 50% of its music division with Sony's Sony Music Entertainment to form "Sony BMG Music Entertainment", but on October 8, 2008, Bertelsmann AG sold the remaining 50% of BMG to Sony Corporation, renaming Sony BMG back to "Sony Music Entertainment".
The Logo
Edit
On a black background, a segmented triangle "stretches" onto the screen. The letters "BMG" zoom in, then the outline takes off, and the word "VIDEO" shine in. A red line is drawn between the two phrases.
Scare Factor
Edit
Minimal.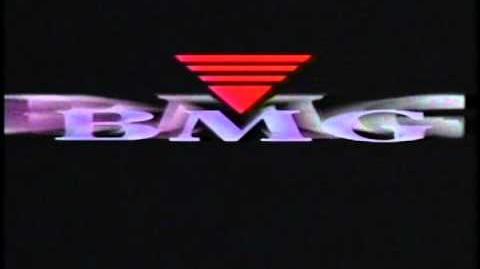 Ad blocker interference detected!
Wikia is a free-to-use site that makes money from advertising. We have a modified experience for viewers using ad blockers

Wikia is not accessible if you've made further modifications. Remove the custom ad blocker rule(s) and the page will load as expected.