The British Broadcasting Company, Ltd. was founded in London on Wednesday 18 October 1922 and became a commercial radio broadcaster licenced by the British General Post Office. On Saturday 1 January 1927, the company was granted a Royal Charter and was renamed the British Broadcasting Corporation (commonly abbreviated to BBC). The BBC commenced experimental television broadcasts on 22 August 1932, using a 30-line system developed by John Logie Baird, the inventor of the television. It officially launched the world's first regular high-definition television service at 3pm on 2 November 1936, broadcasting from Alexandra Palace in London. The service initially used two systems - the Baird 240-line system, and the 405-line system developed by Marconi-EMI (named after Guglielmo Marconi, inventor of the radio). From February 1937, only the 405-line system was used. The service was suspended upon the outbreak of World War II on 1 September 1939, and resumed on 7 June 1946. Transmissions switched to a new site at Crystal Palace on 28 March 1956, and the service was renamed BBC One on 20 April 1964 when BBC Two was launched.
Scare Factor
Edit
Low to nightmare. The composition, consisting simply of the BBC logo and a smoky background with no form-up or music, is faintly troubling. The chilling tone of the announcer makes the whole feel of the ident all the more unnerving, especially with the fact that the announcement of the death of Princess Diana comes shortly thereafter, also it may give some bad memories of the 1990-1997 BBC Video logo.
WATCH IF YOU DARE!!
Edit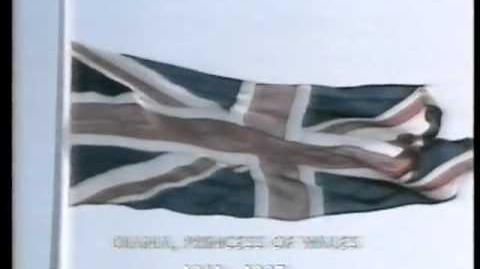 Ad blocker interference detected!
Wikia is a free-to-use site that makes money from advertising. We have a modified experience for viewers using ad blockers

Wikia is not accessible if you've made further modifications. Remove the custom ad blocker rule(s) and the page will load as expected.