The Australian Broadcasting Corportation or ABC used a creepy logo also known as the "Lissajous Figure of Doom" in around 1967.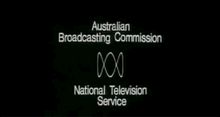 The screen is filled with a view of an oscilloscope display. The "Lissajous figure" that we see is oscillating rapidly, going from one frequency to another in quick bursts until it settles on a fixed rate. After around five seconds, the display fades into an animated representation of the slow, horizontal pattern seen before. It fades into a vertical pattern, and then fades back into the previous pattern. The animation stops at the point where the figure resembles the early version of the infamous ABC logo, and then pulls back, with the words "Australian Broadcasting Commission" (at the top) and "National Television Service" (at the bottom) appearing at once, contracting with the logo. The logo stops animating altogether at an easy distance.
Scare Factor
Edit
Nightmare. The loud noises and rapid oscillations at the start are unlike anything seen in a logo of that time, and probably would have given many kids the creeps (and bad dreams to a lesser extent). Also, the xylophone and harp piece, while intending to be relaxing, comes across as creepy and quaint instead.
Watch if you dare!
Edit