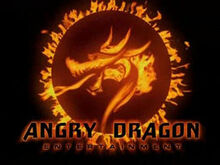 Angry Dragon Entertainment is a production company founded by Dean Cain in 1998. However, the company didn't use a logo until 1999.
On a black background with flames, we see a red circle that now has a cut shape of the same dragon from the 1st logo. The dragon's head turns once in 3D effects. The dragon also roars like somewhat of a lion or tiger. The name "ANGRY DRAGON ENTERTAINMENT" appears later.
Seen on Ripley's Believe It or Not!
Scare Factor
Edit
High to nightmare. The added flames, the roaring dragon, and the dragon turning its head may cause a lot of scares.
goose version:
dragon get ANGRY because of a poop lol xd ?!@??!? ?! ?! !? ?!? ?! ?! ?! ?! ?@@@@@@@@
poop ROR.