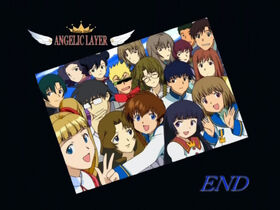 This "The End" screen is an alternate end screen that appears in the final episode of Angelic Layer. It flashes up the screen after the special ending credits and a scene where Hikaru and Athena sitting together. Since the manga was made by CLAMP, but the anime was produced by Bones, a Japanese anime studio.
It features a group photo of the characters in the middle, a title logo in the upper left corner, and a blue "End" text in the lower right corner.
Scare Factor
Edit
None for those ones who give respect to their anime fans.
Nightmare for those being disrespectful.
Ad blocker interference detected!
Wikia is a free-to-use site that makes money from advertising. We have a modified experience for viewers using ad blockers

Wikia is not accessible if you've made further modifications. Remove the custom ad blocker rule(s) and the page will load as expected.