A Guntzelman Sullivan Marshall Production
Talk

0
Share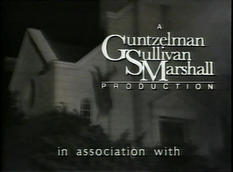 This logo is seen on Growing Pains and Just the Ten of Us.
We see an old house at night. An insane-looking man walking on the left side of the roof stumbles and falls two stories into some bushes below. Superimposed on the screen is:
A Guntzelman Sullivan
---
Marshall
_________________ P R O D U C T I O N in association with
The logo then cuts to the current WB Television logo of the time.
Scare Factor
Edit
Medium to high. The dark image and the scary-looking man falling off the roof may probably give more than a few the creeps, but those who enjoy black comedy may find this logo hilarious.
Ad blocker interference detected!
Wikia is a free-to-use site that makes money from advertising. We have a modified experience for viewers using ad blockers

Wikia is not accessible if you've made further modifications. Remove the custom ad blocker rule(s) and the page will load as expected.