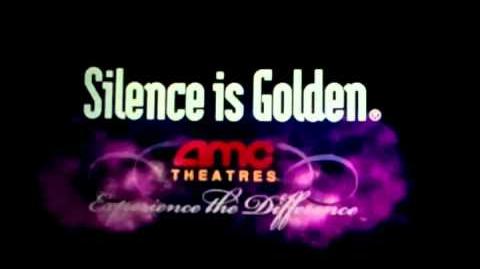 AMC Theatres Silence is Golden was a logo that appeared in every AMC Theatres when you watch a movie there. At the beginning before the feature starts, it shows a soundwaves that contains loud sound effects (such as Crying Baby, cellphone ring etc) then the text shows "Please don't spoil the movie by adding your own soundtrack" then followed by another text says "Silence is Golden" which is referenced to the golden rule. Since 2011, this logo has been removed and replaced by ''Resist the Urge''.
Scare Factor
Edit
High to Nightmare due to the loud various sound effects from the soundwaves could might scare some people. We suggests to not go to AMC Theatres at night.
Ad blocker interference detected!
Wikia is a free-to-use site that makes money from advertising. We have a modified experience for viewers using ad blockers

Wikia is not accessible if you've made further modifications. Remove the custom ad blocker rule(s) and the page will load as expected.