a.k.a. Cartoon is a company founded by Danny Antonucci, the creator of the well known cartoon Ed, Edd n' Eddy.
First Logo
Edit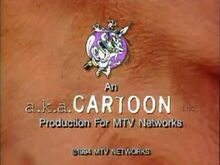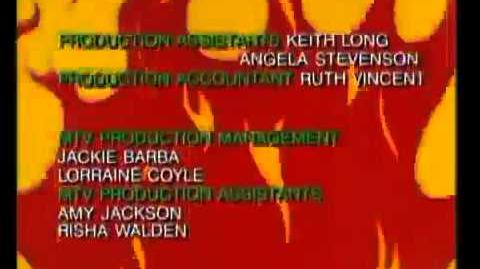 The first logo only appeared on The Brothers Grunt, another cartoon created by Antonucci. It appeared from 1994-1995, and was never seen after that. It might have been unsettling to some viewers because of the disturbing image of a man being skewered by a pencil. The man is inside a purple circle, and under it, the text "an a.k.a. Cartoon Production for MTV Network" is written. The copyright of MTV is also present.
Scare Factor: Medium to high, due to the disturbing drawing of the man, but the next logo doesn't help matters.
Second Logo
Edit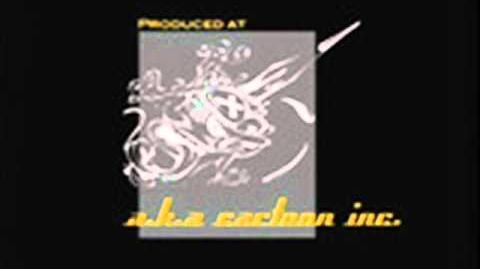 The second logo can be seen after the ending credits to Ed, Edd n' Eddy. There are different variants of it for each season and special. This logo may be scarier than the first, because the same man is zoomed in closer. Possibly the scariest variant is from "Boo-Haw Haw" for the blood. The sound of a trumpet is usually played in the logo.
Scare Factor: Medium to nightmare. The very grotesque and violent image combined with the trumpet scream makes this a somewhat disturbing logo for most, and the "Uh" sound on specials of EEnE might be jarring to a few viewers who are not used to it. Some who have seen the logo have found it to be funny, due to the anti-humor. However, subject matter like this is inappropriate for a children's show.
High to nightmare for the halloween variant due to blood.
Medium to high for the silent variant, as the guy drawing is still there.