Twentieth Century Fox Film Corporation, doing business as 20th Century Fox, is an American film studio currently owned by 21st Century Fox. It is one of the "Big Six" major American film studios and is located in the Century City area of Los Angeles, just west of Beverly Hills. The studio was owned by News Corporation from 1984 to 2013.
20th Century Fox is a member of the Motion Picture Association of America.[1]
The scare factor is below.
#1. None.
#2. Minimal.
#3. It depends:
Medium for 1960.
Medium to high for 1961.
Medium to nightmare for 1965 Warp speed.
Others: Low to medium.
#4. None.
#5. It depends:
1965: Low to high.
1966: Medium to high.
Costum Theme: Low to medium.
Still: Low.
#6. It depends:
1981: Medium to high.
1989/Closing Theme: Low to medium.
#7. None to minimal.
#8. It depends:
1995 Variants: Low.
1997: Low to medium.
2007, 2012, 2015, 1989 Theme, Closing Theme, and Silent Variants: None.
2009-2012: Minimal.
International TV/Abridged 2012 Variants: None to low.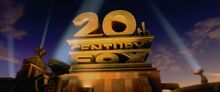 This Logo Can Bee Seen In Every End Of A Simpsons Episode.
Error 666, this page is deleted.