1001 Video Entertainment (1001) is a logo that was last seen on YouTube. There have been no movies associated with the company itself.
Avalibility: Unknown.
Scare Factor: Normal variant: Minimal due to the black background it can scare more than a few. Rainbow variant : Low, it might surprise you the first time you see it, and the speed of the rainbow background might cause epileptic seizures.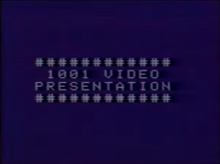 SFX: Just the Colour Changing Background
Sounds: None.
Ad blocker interference detected!
Wikia is a free-to-use site that makes money from advertising. We have a modified experience for viewers using ad blockers

Wikia is not accessible if you've made further modifications. Remove the custom ad blocker rule(s) and the page will load as expected.